Kometa type, 4 units available

Hull aluminium alloy

Draft 3.70m

L.o.a. 35.10m – beam 11.00m

G.r.t. 140.00 – n.r.t. 87.26

Main engines MTU 2 x 700 bhp

Day pax 132

Machinery

2 Russian engines model M401L giving 1200 HP.  at 1600 RPM.

1 – 12 Kw generator set 220 Volt

Service Speed 32 knots. Max speed 35 knots  Range 240 Km.

Description.

These vessels are constructed from aluminium and magnesium alloys

They operate with a crew of 6 including bar staff.

The 3 cabins are fully enclosed with coach type seating and full air conditioning.

These measurements, specification, and inventory details are as accurate as we can give them, but they are not guaranteed.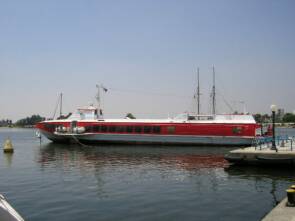 Type                 Kolkhida

Gross Tonage:    130 T

Net Tonage:      39 T

L.O.A.               31.25 Meters

Max. B.              5.8 Meters

Draft:                  3.6 Meters

Passenger Capacity:  125

Speed:               35 knots

Range:                300 Nautical Miles

Fuel Consumption: 480 Litres per hour / Diesel

Engines:               2x990 k.w. (2x1425 HP) Zvezda

1 unit available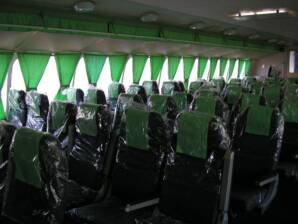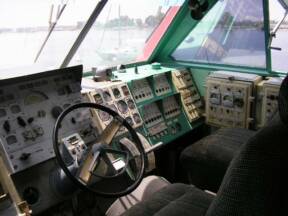 Meteor Type

METEOR TYPE two units available

DW LIGHT  36.4 MT

DW LOADED 53.4 MT

LOA/B/H/ 34.6/9.5/6.25 M

M. ENGINES SERVICE POWER: 2 x 930 HP

PASS. CAPACITY:  123

DRAFT AFLOAT:  2.35 M

FOILBORNE DRAFT: 1.2M

SPEED:   65.9 KM/H AT 1650 RMP

NUMBER OF M.ENGINES  : 2

TYPE OF   M.ENGINES  : M400

SIGN OF ROTATION: LEFT AND RIGHT

NUMBER OF CYLINDERS: 12 (62.4 L IN TOTAL)

TYPE OF FUEL: DIESEL OIL (MGO)

FUEL PUMPS: GEAR-TYPE, PRESSURE 2-4 KG/SM2 (SQUARE CENTIMETER)

Exhaust system muffler: WET TYPE (UNDER WATER)

FUEL TANKS (TOTAL): 3.2 MT FOR 600KM AT SPEED 65 KM/H

FRESH WATER TANK: 300 L

SALOONS: FORE  - 26 SEATS, MIDDLE - 46 SEATS, STERN - 46 SEATS

        PASSENGER CABIN - 5 SEATS

BAR AREA:     5 M2 (SQUARE METERS)

PANTRY AREA:  4.4 M2 FOR BAR PURPOSES

BOATSWAIN STORE: 0.75 M2

WC NUMBER: 2


Voskhod Passenger hydrofoil

Voskhod-2

(Voskhod-2M) New Building

Principal dimensions:

overall length, m 27.6

overall beam, m 6.2 (6.4)

Foil-borne draught, m 1.1 (1.2)

Full displacement, t 28,0 (32,5)

Main engines capacity, kW 2x550..600

2xMTU, MAN, GM

Speed, knots 32

Passengers 71 (65)

Crew 3

Cruising capacity without refueling, miles 250

Navigation and communication complies with GMDSS

Hull

the hull is aluminium-magnesium alloy all-welded construction

Voskhod-2

is designed for high-speed passenger transportation on navigable rivers and reservoirs in temperate and tropical climate.

Passenger saloons are equipped with comfortable armchairs of aviation type, places for outer clothing and small cargoes are provided, and there is a bar.

The main advantage of the hydrofoil perfect hull and foil arrangement structure, high-speed qualities and reliability.

Voskhod-2М

is designed for operation in temperate and tropical climate.

Navigation area sea coastal region, sea bays operation within 25 miles of a port of refuge.

Business class hydrofoil version building is possible.

In main deck fore saloon there is a comfortable space for talks for 10..12 persons. Upper deck comfortable saloon is equipped with 20 seats of aircraft type.

In stern part of the main deck fore saloon there are two cabins de luxe with a bath and a lavatory. In the stern part of the saloon there is a restaurant with a bar wall.

At main deck STBD in the area of frames 31..35 there is a double-birth cabin. In the area of frames 33..35 a galley can be located equipped with a coffee-machine, micro wave oven, boiler for sausages, a sink with a water tub, a refrigerator of 100 liters capacity. At the customer's request a gas-stove can be set up.

In the area of fr.35&7 at the customer's request a built-in lavatory with an autonomous regeneration system can be installed. Modern radio communication equipment and radar are provided.

Price: USD 1,000,000 ( CIF Any International  Port )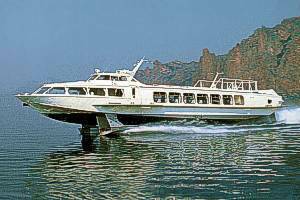 Wastok Type,  enquire 4 availability

Length : 25.87

beam : 4,40

draught : 0,67

hull material :  aluminium

engine : Zvezda

horsepower : 736 kW

passengers : 94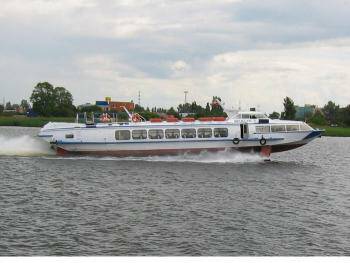 Raketa Type, enquire for availability

year built : 1962

Length : 22.70

beam : 4.40

draught : 0.80

hull material :  steel

engine : 730 kW

passengers : 66

DWT : 61

in working condition - in operation

from Euro 55,000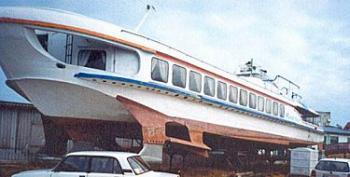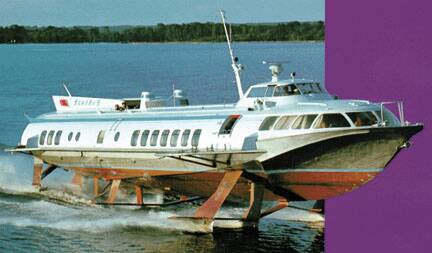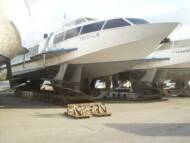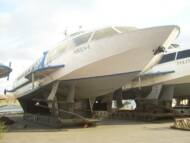 Hydrofoils available 4 sale

We have several hydrofoil operators that can make available for sale their hydrofoils. Please enquire for availability.